Visa requirements *
Visa-exempt foreign nationals : Algeria, Bahrain, Jordan, Kuwait, Lebanon, Mauritania, Morocco, Oman, Qatar, Saudi Arabia, Sudan, Syria, Tunisia, United Arab Emirates and Yemen. Holders of a passport from any state (except from the United States) who are born in one of these countries are also exempt from visa.
Nationalities with a special status: Somalis residing outside Somalia are visa-exempt (if they are over 35 years old and hold at least US $ 2,000). Iraqis residing outside Iraq are exempt from visa. Turks are exempt from visa for a stay of less than 3 months.
Nationalities that can obtain a visa upon arrival: Armenia, Azerbaijan, Belarus, Egypt, Georgia, Iran, Kazakhstan, Kyrgyzstan, Malaysia, Moldova, Russia, Tajikistan, Turkmenistan, Ukraine and Uzbekistan.
Special Passports: Russian citizens with a diplomatic passport or service passport are exempt from visa for a stay of less than 30 days.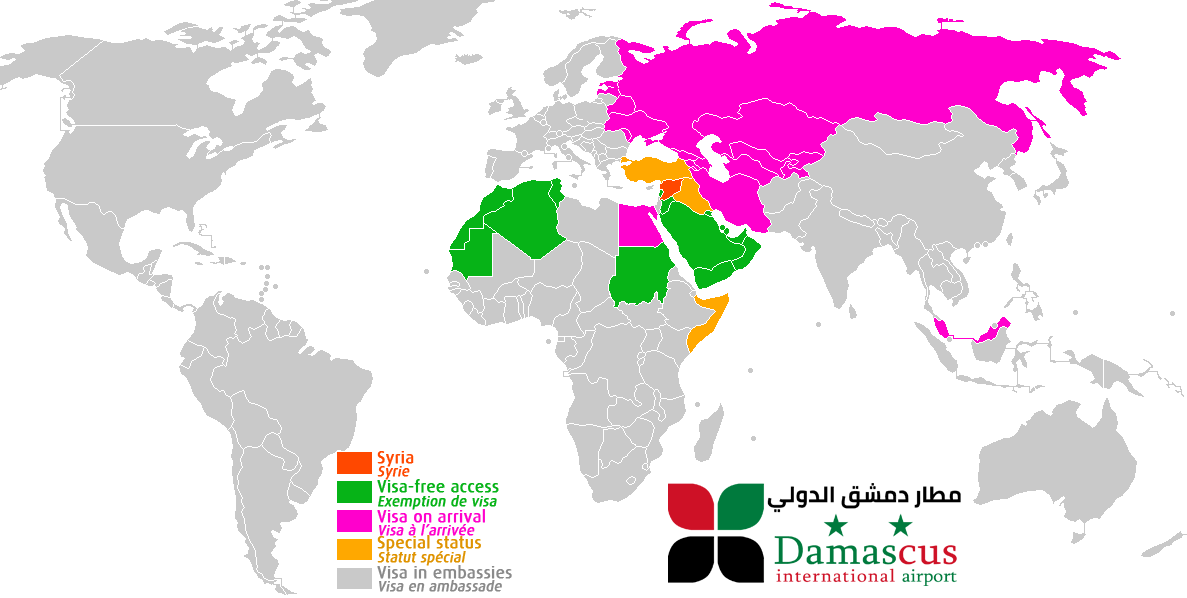 Note: a passenger who does not have Syrian identity papers (passport or identity card) is considered as a foreign passenger even if he / she has a multi-citizenship and must therefore be in possession of a visa .