Taxis, parking and car rental at Damascus Airport

The airport is connected to Damascus by a highway. It can be reached from downtown Damascus with a shuttle bus that runs every half hour. The construction of a railway line and a railway station at the airport is also planned to connect it to the Hijaz train station.
Parking

Damascus International Airport has a free drop-off service to drop or pick up passengers on departure or arrival. Paid parking is also offered for longer parking periods. A petrol station located at the entrance allows refueling before the possible return of a rental vehicle or when you leave the airport.
Taxis

Taxis are available 24 hours a day at Damascus International Airport as well as throughout the Syrian capital. They are identifiable with their yellow color. Pricing is forfeit or meter but the race can be negotiated with the driver before entering the vehicle. Damascus being an extended city, the price and the duration of the ride (from 25 to 45mn) depend therefore on the distance to the district of destination and the road traffic. From the city center to the count on an average of 500 Syrian pounds. At the airport, a taxi reception desk allows you to pay the fare at an official price of 700 Syrian pounds. After midnight taxi fares are doubled.
Shuttles and buses

An urban bus line commutes every 30 minutes to 60 minutes (depending on the time) between the airport and the Ali Ibn Abi Taleb Boulevard bus station in the Baramkeh district of the city center of Damascus (near Tishreen Stadium). The price of the ticket is 100 Syrian pounds.
Note: the airline Emirates offers free buses (on reservation) on each arrival of a flight of the company, towards the destinations of Homs, Hama and Aleppo. These shuttles also allow to reach the airport from these cities.

Minibus shuttles set up by the hotels run between the airport, the city center and the tourist areas. If you are staying at a hotel, ask reception if they arrange transfers to or from the airport.
Car rental companies

Several car rental companies (with or without driver) offer their services in Syria. Several of them have an agency at the Damascus airport where to pick-up your vehicle 24 hours a day. A petrol station located at the entrance of the airport car park allows you to refuel before the return of the vehicle.
VIP service

Several companies offer VIP transport service at the airport at good price. From the airport to your hotel or residence, anywhere in the country, comfortable and air-conditioned car or minibus drive you safely through your journey. These services are available on request.
Fri 8th December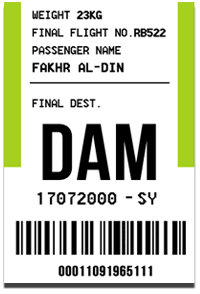 Log in

Contact us

About

2015-2019 Damascus-airport.com.